FBI Lovebirds: UnderCovers Closes Due to Threats
Phelim McAleer's FBI Lovebirds: UnderCovers was to be a play/film that exposed how top FBI operatives tried to destroy President Trump's campaign and his presidency by starting the "Russia Collusion" investigation. As the play was being done, it was to be filmed before a live audience in Washington DC and then released online for the world to see.
Dean Cain (Lois & Clark: The New Adventures of Superman) was to play Peter Strzok. Strzok is the FBI agent who started the investigation while pledging to his FBI lover Lisa Page to be played by Kristy Swanson (Buffy The Vampire Slayer film). They stated that they were going to prevent Trump from becoming president.
The Washington D.C. theater has canceled the production due to "threats of violence."
McAleer, has stated "that the show will go on despite the left's attempts to sabotage it by forcing the venue's withdrawal so close to the event date. We will get a venue. The staged reading will go ahead. It will be filmed and released online and everyone will get to see the truth about how the upper echelons of the FBI tried to subvert democracy. This censorship will not succeed."
So it looks like this death threat was taken down, that is a good thing. But the person who posted the Threat (sponson) has NOT been banned.
Death Threat. "and set the theater on fire." Please Report 6824:56 PM – May 22, 2019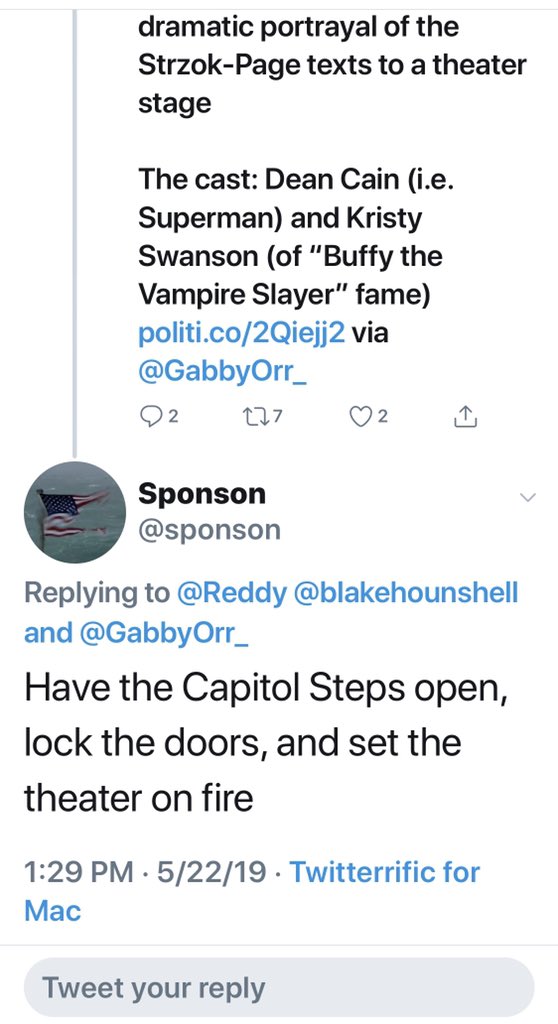 Swanson retweeted the death threat since twitter has refused to take it down. After that Swanson tweeted "So it looks like this death threat was taken down, that is a good thing. But the person who posted the Threat… has NOT been banned".
The theatre sent a e-mails to the producers stating "We have an institutional responsibility to protect the safety of our staff, patrons, rental guests, and community. In the best interests of all involved, we must ask that you find another venue for your event."
As of today, McAleer's Indiegogo page for the production, which did not have updated information about the venue change, had raised $38,877, about 40% of its $95,000 goal.
STRIKE END LOOMS — (Via Showbiz 411/Roger Friedman) All the studio chiefs met Wedneday with the Writers Guild and will continue negotiating tomorrow, according to a WGA post.
The sudden seriousness of the studios is welcomed as the deadline looms for the 2023-24 TV season. If the WGA and SAG-AFTRA strikes aren't resolved by early October, my sources say it will be impossible to put on a season.
Netflix's Ted Sarandos, Disney's Bob Iger, Universal's Donna Langley and Warner Bros Discovery's David Zaslav were present today for the negotiations, a sure sign that the studios are finally in panic mode.
There are no daytime or nighttime talk shows, no new material on TV, and actors can't promote the fall and winter movies. The actors have already missed the Telluride, Venice, and Toronto Film Festivals. Now the New York Film Festival looms, as does the premiere of Martin Scorsese's "Killers of the Flower Moon."
The so-called Fall TV Season has been decimated; the Emmy's pushed back and just general chaos everywhere. The severity of the strike -142 days in- has hurt almost-every-single below-the-line sector, from caterers to limo drivers to costume houses. It's reported that it will take up to 10-12 weeks to fully resume everything. That means early-November and let's not forget come Thanksgiving, the holiday season officially starts. Stay tuned.
LOVE, BURT AT THE CUTTING ROOM — Monday night at Steve Walter's Cutting Room was the presentation of Love, Burt – celebrating the majesty and memory of Burt Bacharach's music.
The show really moved me and reminded me of the reason I do what … the music!
The show was just sumptuous – with the assembled group -led by Mike Visceglia- honoring and doing proper justice to a host of Bacharach songs – everything from "Baby, It's You" to "One Less Bell To Answer," The Look Of Love" and "Alfie" were all dutifully done. Especially poignant was their rendition of "A House Is Not A Home."
The fact of the matter is that when these songs were recorded, they were embedded into everyone's consciousness. These versions were good, but the originals remain standout. You hear a lot about the Great American Songbook, but these songs are the "new" Great American Songbook. Just luscious.
They ended the show was one of my favorite-Bacharach songs, from the 1988 album Burt recorded with Elvis Costello, Painted From Memory. One of the album's strongest cuts is "God Give Me Strength." It was simply sensational. Spotted there were Benny Harrison and Maria Milito from Q1043.
The room was packed like never before; what a night! 
SHORT TAKES — Micky Dolenz headlines the ACE Theatre Friday night in LA, and was a guest on KTLA Wednesday. Here's a shot of him on-set with Sam Rubin who interviewed him with the KTLA-gang. Sam's the second from left. Industry stalwarts at the ACE Theatre show include legendary-LA Times writer Randy Lewis; LA Magazine'sRoy Trakin and Goldmine's Ken Sharp … Roger Friedman reported Wednesday that the pre-sales of Jann Wenner's upcoming book Masters have been severely impacted by his New York Times interview. Take a read here: https://www.showbiz411.com/2023/09/20/jann-wenners-new-book-the-masters-drops-in-pre-sales-run-on-amazon-almost-off-the-top-2000-after-scandal-erupts And just last night his big presentation at NYC's 92nd Y with Cameron Crowe was shuttered as well … SIGHTING: Alison Martino at NYC's Algonquin Hotel …
When Apple TV's The Morning  Show debuted years ago (November 2019), created and run by Kerry Ehrin, it was a first-rate series certainly of The Sopranos-like and Mad Men-like caliber. Billy Crudup was astonishingly good as were Jennifer Aniston, Reese Witherspoon and Steve Carell. The second season was basically trash. Three episodes in on a third season -with a 4th already guaranteed- it's kind of a mixed-bag. I did not care for the first two EPs, but the third was bordering on the edge of greatness – and Witherspoon wasn't even in this one and there was no explanation why. Jon Hamm has joined the cast as sort of an Elon Musk-figure. To me, he's still Don Draper, just with an updated wardrobe. Most of the production staff has been replaced and it seemed to me, they're still finding their way. The trouble is, that with these 8 or so episode-runs, it gets really good at episode 6. Go figure …
Rupert Murdoch to retire per CNBC? More on this next column … Meg Ryan and David Duchovny in What Happens Later – looks cute and Ryan directed it – check out the trailer: https://www.youtube.com/watch?v=WqTZqSglhZo … RIP Roger Whitaker
and Happy Bday David McCallum; Curtis Urbina; and Bill Murray!
NAMES IN THE NEWS — Glenn Gretlund; Jodi Ritzen; Leonard Nimoy; Tom & Lisa Cuddy; Scott Shannon; Zach Martin; Michelle Grant; Art Rutter; Maria Milito; Joe Lynch; Melinda Newman; Mandy Naylor; Kimberly Cornell; Sam Rudin; Jim Clash; Terry Jastrow; Randy Alexander; Bob Merlis; Andrew Sandoval; Art Rutter; and CHIP!