Lizzie Vieh's Monsoon Season, opened at Rattlestick Playwrights Theater, 224 Waverly Place, last night. Fresh from the Edinburgh Festival Fringe, this brutally demented mid-life crisis thrilling, romantic comedy is directed with aplomb by Kristin McCarthy Parker (Puffs).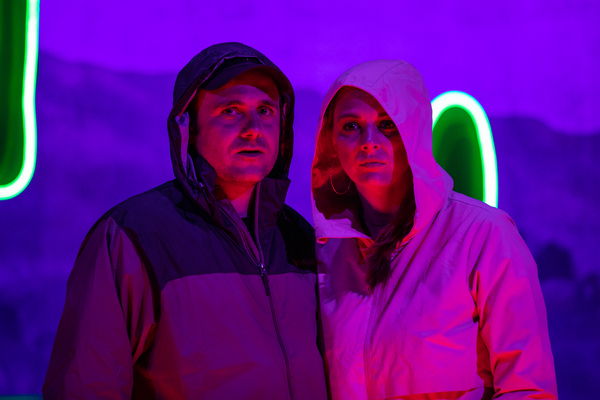 In Phoenix, Arizona, Danny and Julia have separated. Julia got the house and his daughter. Danny got an apartment next to a strip club's flashing neon sign. Without any money Danny can not afford curtains and the sign is keeping Danny awake at night, He is starting to suffer from micro-blackouts.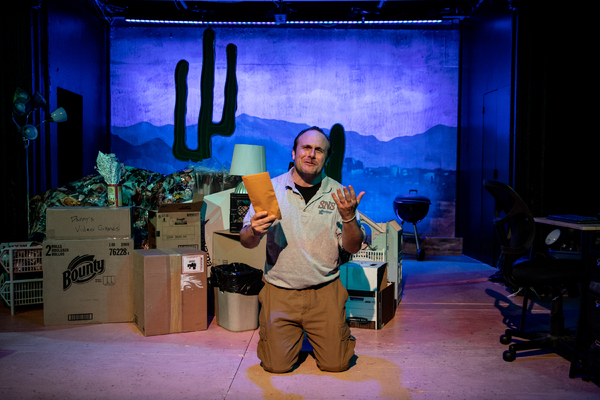 Danny's work at a call centre and his second job as an Uber driver is suffering, as well. He bought his daughter a hermit crab as a pet, but she wanted a kitty. He is losing her too. His apartment is scattered with the boxes of his previously content life. He loves his wife, but she has moved on and he is losing it.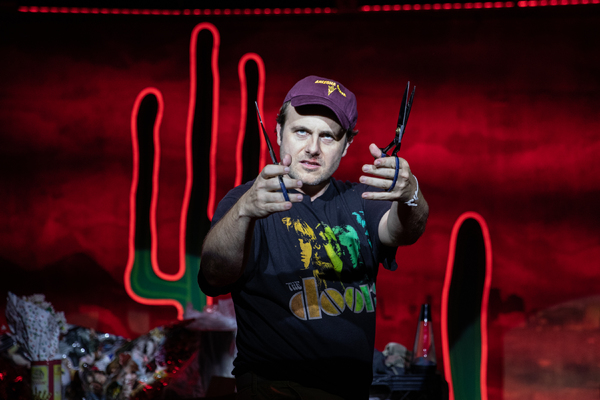 We hear everything from his side first. Then we meet Julia.
In the home that Danny and Julia share Julia is a minor YouTube make up influencer. She is also a Adderall addict. Sick of living a life that seemed too mundane she leaves Danny. Danny also you find out wasn't there for her. She's hot, she wants a man that's hot and who does she end up with…..her dealer.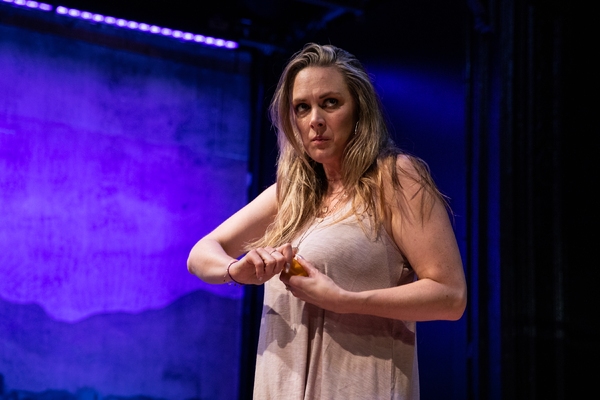 When Julia starts hallucinating and seeing birds, you know nothing good can come. The dealer's clients showing up and he turns violent, when she kicks him out. Who comes to her rescue Danny. Suddenly these two are joined at the hip and will forever be.
Richard Thieriot as Danny is a schlub with loser written all over his forehead. As he starts to lose it get ready for Jack Nicholson in The Shining.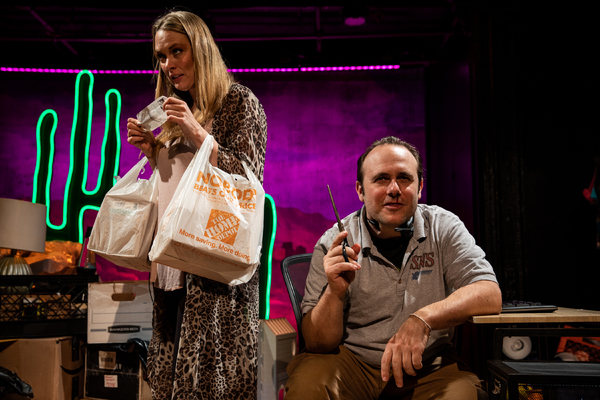 Therese Plaehn is remarkable. She is so frenetic and physical in her performance. You will never really like her character, but she will illicit you to feel for her. Ms. Plaehn, grabs you and drags you on her journey, daring you to think otherwise. It is an invigorating performance and I look forward to seeing more of what she can do.
Kristin McCarthy Parker's direction is so visual and she keeps this play in it's paces. The effect is enhanced with You-Shin's Chen's cluttered set that functions in multiple ways, Sarah Johnston's moody and bright lighting that brings out the shadows of bloodthirsty birds and the sound design by Emma Will.
Lizzie Vieh script is full of dark humor with multiple twists that you will not be able to figure out until the end. It is a fabulously inspired look at society today.
Monsoon Season is in a way what Linda Vista should have been, funny, tongue and cheek and thought provoking.
Monsoon Season: Presented by All For One Theater at Rattlestick Playwrights Theater, 224 Waverly Place, extended and now until Nov. 23rd.