Grilled Peach Panzanella Salad From From Two Spoons
Ingredients
4 peaches, sliced into wedges
6 ounces french bread, halved lengthwise, into top and bottom a little less than half of a standard 16 ounce loaf
1 pint cherry tomatoes, halved
1/2 cup red onion, thinly sliced
1 14 ounce can cannellini beans, drained and rinsed
1/2 cup fresh Basil leaves, chopped
1/2 cup fresh Italian parsley leaves, chopped
1/2 cup fresh Cilantro leaves, chopped
2 Tablespoons feta cheese, crumbled
3 Tablespoons olive oil, divided
1 Tablespoon Champagne vinegar
1/2 teaspoon kosher salt + more to taste
1/2 teaspoon fresh cracked pepper + more to taste
Directions
Preheat grill.
Brush peaches and French bread with olive oil so they do not stick to the grill.
Place peaches directly onto hot grill, grill approximately 4 minutes until warm and soft. Place bread, oiled side down, directly onto hot grill.  Grill approximately 1 minute until crusty and warm.
Allow grilled peaches and bread to cool slightly.  Chop grilled peaches into bite sized pieces.  Slice bread into bite sized pieces.
In a large bowl, gently combine tomatoes, peaches, bread, red onion, cannellini beans, basil, cilantro, and Italian parsley. 
In a small bowl, whisk 2 Tablespoons olive oil, champagne vinegar, salt and pepper.
Add olive oil mixture to bowl of tomato and bread mixture and gently toss.  Pour salad onto your serving platter.
Allow to sit for 10 minutes. (The bread in this salad is better after it soaks up some of the juices from the tomatoes, dressing and peaches)
Sprinkle salad with crumbled feta cheese.  
Add additional kosher salt, and cracked pepper to taste.
Serve and Enjoy!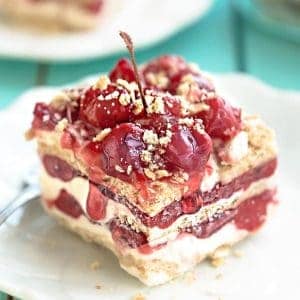 Homemade Cherry Pie Filling:
3 cups pitted cherries
3/4 cup honey or sugar
3 Tablespoons cornstarch + 3 tablespoons water
Optional Toppings:
crushed graham cracker crumbs
chopped nuts
drizzle of chocolate
powdered sugar for dusting
Instructions
To make freshly whipped cream: With a hand mixer or in the bowl of a stand mixer, whip 2 cups of heavy cream until it just holds soft peaks. Add 1/3 cup of powdered sugar, 1/2 teaspoon of vanilla extract (optional) and whip to combine until stiff peaks hold. Do not overmix. Set aside 1/2 cup whipped cream for topping.
In a separate large bowl, beat the cream cheese until smooth. Fold in the 3 cups of whipped cream or Cool Whip.
Assemble the cake: Spread a thin layer of the cream mixture in a 8 x 8 pan to coat the bottom.
Place 3 graham crackers across the center of pan and then break up 1 or 2 more crackers as needed to fill in the gaps. Spread half of the cream mixture on top. Spoon an even layer of cherry pie filling and spread.
Top with another layer of graham crackers, breaking them as needed to make them fit. Spread the remaining cream mixture over top. Add another layer of cherry pie filling.
Top with the final layer of graham crackers. Spread the reserved 1/2 cup freshly whipped cream (or Cool Whip) over evenly.
Arrange the last layer of the cherry pie filling evenly. Sprinkle on graham cracker crumbs on top.
Refrigerate for at least 4 hours or overnight until the graham crackers have softened completely. Serve chilled and dust with powdered sugar if desired.
For the Homemade Cherry Pie Filling:
In a saucepan over medium heat, simmer cherries (stirring often) for 10 to 15 minutes, until they release their juices. Whisk in honey or sugar until dissolved.
In a separate bowl, whisk together cornstarch with water until smooth and whisk into the saucepan. Turn heat to medium-high and cook until the filling has thickened, about 2 minutes; remove from heat, let cool, and use as pie filling.