Old Vic Live Streams the Electric and Vibrant Lungs
The two-minute warning bell chimes, telling us to take our seats, and it feels like we have returned home, in a way. We are definitely in a new frontier, a vibrant and determined one that hasn't encapsulated this feeling since the lockdown began. I'm excited and with much anticipation I opened up my laptop, clicked on the link, and was quickly delivered to The Old Vic's Zoom room viewing of Lungs. This intriguing new play is a wonderful re-entry, streaming us into a theatrical world I most dearly miss. It's a stellar idea, rekindling a live breath-taking performance of a beautifully intimate play with the 202-year-old venue's theatrical seating as the backdrop. Midway through, tears came to my eyes, and not just because of Duncan Macmillan's dynamically orchestrated, emotional rollercoaster of a play, which it truly is, but for a whole conceptual tug on my heart, because what we are witnessing and being part of is something that is happening live in a theatre at this very moment, albeit on the other side of the pond, most defiantly in the here and now. It's not a streamed reading of a play (which have been wonderful and I'm so grateful for them, don't take this the wrong way), but a full bodied actual performance by two wildly talented actors on a stage giving us something akin to live theatre, a thing that I love dearly, and one that I have witnessed since the theatres started to close back in mid-March.
With minimal staging and accessible only by live-streamed camera work and editing, Lungs is a one of a kind thrill. "Are we good people?" she asks, and the dangerous waters from the melting ice caps rise up threatening against this unmarried couple, played magnificently by the dynamic duo; Claire Foy and Matt Smith, the Queen and Prince of "The Crown". The love they have for one another vibrates outward, shooting through the airwaves and grabbing hold of our hearts as we sit in our comfortably isolated rooms watching a thing that is happening right now on the London stage of The Old Vic. They are having a conversation, or, should I say, he's having a conversation, or starting one, that he decided on in the lineup of IKEA. Foy's character is not ready, nor are we, but we gladly grab hold of the wheel and settle in for a strong well-driven ride.
It's about having a baby, and the opening of the play, as directed by Matthew Warchus (Broadway's A Christmas Carol, Groundhog Day) is as fucking shocking to her as it is gripping and hilarious to us. Her contradictory magnificence is charged, and the monologue she drives into, about an unraveling of beliefs, is as perfect a piece of theatre as one could hope for. Written with wise swings of assuredness by Macmillan, who gave us the utterly heartwrenching and brilliant People, Places, and Things, the text is almost "sacred, not sacred, but yeah" sacred, as said by the young soon-to-be-maybe-impregnated woman to her confused excited animalistic lover/not husband. Why on earth should we do this, they ponder, almost brilliantly and endlessly, bring a baby into this terribly overpopulated world? We can't help but layer a few more good reasons on top as we sit in our homes watching a play online during a pandemic with CNN reporting on the (possible) end of civilization as we know it downstairs. And this brilliance was first performed in 2011, way before all this madness had taken over the airwaves.
The performances stalk and pace around one another, keeping a correct social distance from the other that doesn't, for a minute, detract from the play. It surprisingly, only enhances every inch of their conflicted interactions, adding electricity that jumps across those two meters with ease. The script digs into the contextual debate on our personal and universal responsibility for saving a planet that seems, at the moment, to be doomed. The couple, struggle and worry about the carbon footprint of a baby ("10,000 tonnes of CO2") and wring their hands about the state of the world with authentic angst. "We recycle," they strongly tell themselves over and over again, a theme played out just with different words and scenarios. Their chemistry is undeniable, and the characters find the perfect physical repartee that builds up, step by step, their internalized spark to an emotionally intoxicating level. The idealism and compulsive need to be seen as "good people" radiates from within their very souls, even as they undergo complicated dysfunction and disturbances on the simplistic dual tiled set, designed with specificity by Rob Howell (Broadway's The Ferryman), who also is responsible for the casually pure costuming.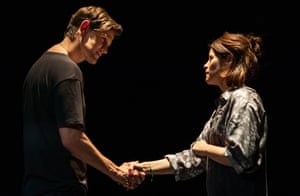 With lighting by Tim Lutkin (Princess of Wales' Strictly Ballroom, the Musical) and the broadcast sound and video production by Simon Baker & Jay Jones, alongside camera operators Avril Cook & Josh Reeves and production manager Dominic Fraser sitting on stage with the actors, the time spins and accelerates with conflictual alternating ease. Frenetic and sharp, their twirling guilty crisis is current and clear. The power dynamic shifts quickly from sexual politics, domination, and aggression to environmental correctness within one breath. It's hard to keep attuned to the changing of the wind, and in Foy's mid-sentence reversals, we see the modern tinge of traditional gender politics turned asunder. We stumble as much as Smith does trying to keep up with her intellectual honesty. It's the thing he loves the most about her character and the quality that pulls us so easily into their shifting formulations and standoffs.
Warchus's direction seethes with dynamic energy, pitting them against one another while also throwing them together with such sexual force, but without the physical proximity. Smith finds epic qualities in his paralysis, questioning her wants and needs, without any clues what to hold on to. It's a traditional argument; tell me what you need, as I can't read your mind; with the retort, you should know without me telling you, if you really loved me. But the outward contradictions fail brilliantly internal, heaving and sighing as the two gasps deeply for air and survival, trying to hold on to life and intimate connection.
The verbal combat stands solidly opposed to one another, six feet apart, even as they speak as if entwined in each other's arms. The scenes shift time and place seamlessly, and we follow hopelessly and willingly at their whim. The two create a space that is heartbreaking and exciting, and they lead us to the edge of a troubled world that we can't quite see, but can imagine quite clearly. It has electricity and is imbued in something powerful and dangerous. This is what live theatre is all about, and I couldn't get enough. It made me weep for these types of moments that we have lost because of COVID19, and excited for their return once theatre itself roars back onto the stage to breathe deeply into its hungry lungs. And in that moment, we all will gladly be whisked away once more.
Click here for more information about upcoming performances. Each performance of LUNGS will be available for up to 1,000 people per night (with some matinees) replicating our usual audience capacity size. Tickets will be priced as they are in our auditorium from £10–£65 and whilst all 'seats' offer the same view (from the comfort of your own home), we're asking audiences to give what they can to help support our theatre in return for access to this totally unique experience. There is also the option to add a further donation on top of this for those who are able to give a little more. – The Old Vic.
For more, go to frontmezzjunkies.com
"The Father and the Assassin" Enlightens and Questions at the National Theatre, London
Weaving together a memory play with a psychological study of epic historical proportions, the National Theatre delivers a mystery revolving most dynamically around a murder up close and personal. Three bullets fired, we are told by our engaging narrator, Godse, portrayed most cleverly by Hiran Abeysekera (RSC's Hamlet), all by him, but he says it almost triumphantly. "Even you could turn into me," he also explains, and in that moment I realized that I knew so little about that sad chapter in India's political history. Other than the headlines, I might add, but more so that there had to be another side to the assassination story of one of the greatest and most well-known Indians who ever lived, Mahatma Gandhi, and I couldn't stop myself from leaning in to see and understand just what playwright Anupama Chandrasekhar (When The Crows Visit; The Snow Queen) has in store for us.
"Let's not exaggerate," but those three bullets changed history and shocked the whole world, mainly because of the confusion it elicited. Set against the backdrop of the tumultuous conflict between India and its colonizing oppressors, the British Empire, The Father and the Assassin attempts to both outline the political journey towards Indian independence and give us a closer more intimate look at the man who fired those shots. Chandrasekhar has noted that thousands of books have been written about Gandhi in an attempt to understand and know every aspect of this famed philosopher and political public speaker and writer, yet very little about his assassin, particularly his upbringing and what would bring a man like him to this violent moment. This was the play's intent.
"Any dramatization of history requires a degree of imaginative license," she tells us in her notes, and here on the grand Olivier Stage of the National Theatre, this epic tale revolves forward revealing an upbringing of disorder and subtle discourse. To understand, or at least attempt to understand the central figure and our narrator, we have to peer back into Godse's upbringing when his parents, and try to look beyond the act itself. You see, after losing three other boys in their infancy, Godse's parents sought a somewhat odd religious solution to their situation and his birth. They decided, in order to sidestep what they thought was a curse on their family, to raise their boy as a girl. They would pierce his nose and deliver him into the world as a daughter, forever setting up a conflict that may have caused Godse to be quite lost in his own personal identity, possibly making him far more susceptible to father figures who might give him a structural meaning of self and acceptance.
This is Godse's conflict story, of inner and outer divisions and betrayal of the father, played out in identity politics of a different order, resulting in some trauma and childish animosities that have their roots in personal relationships as well as, metaphorically speaking, political colonialism. At least, this is what Chandrasekhar tries to deliver forth in this psychological study alongside a complex paradigm for Hindu nationalism, all located in the central figure's cracked psyche, which, in essence, may have resulted in the 1948 assassination of Gandhi.
It's an exhilarating explorative adventure, laid out majestically (and somewhat typically) on a set on that grand Olivier stage. Rust-colored and ramped in the round, designed well by set and costume designer Rajha Shakiry (NT's Trouble In Mind) with grand lighting by Oliver Fenwick (Audible's Girls and Boys) and a solid sound design by Alexander Caplen (Royal Court's Over There), The Father and the Assassin unpacks the complicated quest of a young boy to find purpose and an identity that would bring him, first to Gandhi (Paul Bazely) and his unifying movement of peaceful resistance. This dynamic laid out a fatherly framework that would be their undoing, as that relationship was followed by the divisive politics of Vinayak Savarkar (Tony Jayawardena), who built the foundations of the Hindu Mahasabha party pushing a strongly formatted idea of Hindu nationalism as a political ideology, all while serving out a life sentence in the Cellular Jail as a prisoner. It was a switch that changed the world, but one that seems to have been drawn from paternal inclinations and rejection, rather than political identifications.
The large cast of twenty does the piece grand service, as we play along with Godse as he, as a child, supports his family by channeling the goddess as a village fortune teller. It's a captivating first engagement, as it weaves and rotates into view a childhood filled with obedience, and respect, followed directly by rebellion and political and personal debate.
"Hope smells a lot like sandalwood," we are told, and the play unfolds with precise non-linear structuring that digs us deeper inside this fractured mindset. As directed with clarity and vision by Indhu Rubasingham (59E59/Round House's Handbagged), the story sings on a whole other range, playing with our sensibilities and understanding of an event that shook the foundations of our world. With a staging that conjures up multitudes of complex psychological images, as well as dialectic themes of political style and belief structures, Godse becomes something of a childlike shell, trying desperately to control his narrative while batting away childhood trauma, embodied well, in contrast, with the peaceful qualities of his open-hearted childhood friend Vimala (Dinita Gohil) and the games they once played.
The play lives and breathes through the essential performance of Abeysekera as Nathuram Godse. The way he moves about is both delicate and angry; aggressive and casual, allowing playfulness to be weaved within the construct of empowerment and weakness of character. His desperation for fatherly and an authentic understanding of his own identity is at the center of this dynamic new play. His put-upon strut of childish resentment and ultimate vindictiveness delivers in the end, with the pulling of the trigger. The Father and the Assassin ends on a note of complications, energizing the room to seek for more clarity and understanding. It's a complicated ending, leaving you questioning its stance, and making us want to know more. Which I think is precisely the point.
For more go to frontmezzjunkies.com