I know everyone is all excited about all the Broadway ladies that are on their way to the stage this Spring. I certainly am, maybe more then some of the shows themselves (yes, I'm talking to you, Bette Midler!). We had a lack of big named lady belters on the Broadway stage this fall. Don't get me wrong, come wonderful performances by the likes of Stephanie J. Block, cracking us up in Falsettos. Rachel Bay Jones, Laura Dreyfuss, and Jennifer Laura Thompson all breaking our hearts in Dear Evan Hansen, and even Lara Lee Gayer from the sweet and charming Holiday Inn [closing Jan.15] at Roundabout's Studio 54. But those roles are generally seen as supporting roles, not leads. Magnificent supporting roles, done exceedingly well, but not leads.
But those roles are generally seen as supporting roles, not leads. Magnificent supporting roles, done exceedingly well, but not leads.
The big name ladies of the Broadway musical stage are all waiting for the months running up to the Tonys to start their singing. Like many, we already have our tickets for Bette Midler in Hello Dolly! [opening Apr. 20], breaking box office records with first day sales. I probably should get my act together and secure some tickets for Glenn Close's returning to the role that gave her a Tony back in 1994, Sunset Boulevard [opening Feb. 9] (come to think of it, I should do the same for Miss Saigon opening Mar 23 with Eva Noblezada and Jon Jon Briones, but I'm just not all that excited it, it holds no nostalgic charm for me). Then there are the battling superstars in War Paint [Apr. 6], my all-time favorite, Patti LuPone facing off against Christine Ebersole. I saw it in Chicago, and liked it, but I hear they have been working hard to take it from good to great so keep your fingers crossed. It has all the ingredients for a smash hit, so let's hope the doctor is doing his or her job.
Annaleigh Ashford with Jake Gyllenhall at her side, has recently joined in on this years competitive Tony race when the City Center Encore gala production of Sunday in the Park with George [opening Feb 23] is remounted at the newly renovated Hudson Theater. Will it carry the same exciting spark when it opens for a longer run? I'm thinking that the answer will no doubt be, YES! Also hoping that lightning strikes twice is the Hamilton star, Phillipa Soo headlining Amelie [opening Apr. 3], and over at the Broadhurst Theater, the female centered Anastasia [opening Apr. 24] stars Christy Altomare (for me, more importantly, costarring the dreamy Ramin Karimloo). The remaining question is, will there be any other late additions? Sutton Foster perhaps? Bringing her New Group off-Broadway hit, the delicious Sweet Charity to Broadway? Who knows, but cross your fingers, cause I'd love to see that happen!
And that's just the singing ladies, we haven't even got to the dramatic non-singing/non-dancing stars leading a slew of exciting plays opening on (and off) Broadway. We have the Broadway debut of the great Cate Blanchett in the first show of 2017 opening on January 8th, The Present with Richard Roxburgh already in previews. Another revival of The Glass Menagerie [opening Mar.9] has everyone all atwitter because it stars Sally Field (and co-star Joe Mantello), although Cherry Jones's brilliant performance in the 2013 revival with Zachary Quinto is still haunting my memory. I'm more thrilled about Laurie Metcalf, returning to Broadway with a very interesting sounding new play called The Doll's House, Part 2 [opening Apr. 27]. Her Misery on Broadway was just that so I'm crossing my fingers she's returning with something as great as she is.
Cynthia Nixon and Laura Linney don't have to worry about the quality of the material when they return to the MTC Friedman stage in Little Foxes [opening Apr.19]. We know they are in a quality play, so I can't wait to see what they do with it. Same with Jennifer Ehle in Lincoln Center Theater's Oslo [opening Apr. 13], transferring from their off-Broadway house to the Broadway stage of the Vivian Beaumont. Will that be a snoozefest? or not? I can't wait to find out (I'm guessing it's the later but I am hesitant). And last but not least, well- in terms of Broadway houses, I can't wait to see Allison Janney with John Benjamin Hickey in the 1990 drama revival, Six Degrees of Separation [opening apr. 25]. That's some exciting stuff coming our way.
And then, rounding out my list are all the malecentric musicals both on and off Broadway. One of the shows I am most excited about is the environmental London transfer of Sondheim's Sweeney Todd [opening Mar. 1] at the Barrow Street Theater. I bought my tickets the moment they went on sale, not wanting to risk missing it. I can't wait to eat a meat pie, drink some beer, and watch the Demon Barber of Fleet Street do his nasty deeds. I also bought some tickets for Come From Away, although I bought them for the Toronto pre-Broadway production (I'll be posting my review of that in early January). This Canadian musical opens at the Schoenfeld Theater on Mar. 12th and I think the show sounds so fascinating. I couldn't wait to see it.
After being in awe of him in Rocky and On the Twentieth Century, I'll be very happy to witness the gorgeous Andy Karl starring in the hit London 90-2transfer, Groundhog Day [opening Apr. 17], coming from the Old Vic to the August Wilson Theater. Speaking of handsome leading men that I love to see on stage, Charlie and the Chocolate Factory [opening Apr. 23] with the delicious Christian Borle as Willy Wonka. I'm not convinced that this will win me over, the buzz surrounding the hit in London is mediocre, but I'm optimistic, with my fingers crossed. Over at the New York City Center Encore series, I'll be lining up to see the production of Big River starting a short run on Feb. 8th. I have never seen this show before, nor ever heard the music, so I'm eager to see and hear it on stage with that magnificent orchestra City Center has, and the Encores series rarely ever let me down.
In terms of plays opening this spring, the comedy, Present Laughter [opening Apr. 5] starring Kevin Kline and Kate Burton sounds like a great bet, as does the hilarious London transfer, The Play That Goes Wrong [opening Apr 2] which I was fortunate to see in the summer of 2015
Off Broadway, we have a whole lot to be excited for. David Byrne, fresh from his successful Here Lies Love, is bringing his new musical, Saint Joan [opening Mar. 15] to the Pubic Theater downtown, along with John Leguizamo's new one man show, Latin History for Morons [opening Mar.27] and Martin Sherman's new play, Gentle Down the Stream [opening Apr. 5] starring Harvey Fierstein. The Public has had a really good season so far with hits like Plenty and Tiny Beautiful Things, but with news of Sweat [opening Mar. 26] transferring to Roundabout's Studio 54 theater, they have even more to celebrate. Over at the Vineyard Theater, it looks like they are going to have a very good spring as well, with the NYC premier of John Kander and Greg Pierce's Kid Victory [opening Feb. 22] and the transfer to Broadway of Paula Vogal's first Broadway bound play, Indecent [opening Apr. 18] at the Cort Theater. I saw Kid Victory a few years ago at Washington DC's Signature Theatre and was struck with its edgy and intense storyline and music, so I can't wait to see how it's been advanced over the past few years.
That takes us up to the Tony deadline, but there is theatrical life after the deadline on April 27th. There are a slew of other great things coming our way: The Golden Apple at NYCC's Encores, The Band's Visit possibly transferring to Broadway and Animal starring the incredible Rebecca Hall in May/June, both from the Atlantic Theater Company, Matthew Perry's The End of Longing at MCC Theater, Prince of Broadway at Manhattan Theatre Club, Napoli, Brooklyn and the phenomenal heart breaker, Marvin's Room at the Roundabout. That's one I don't want to miss.
All that being said, I am told that everyone likes a list, so beyond my list of the top theatrical events of 2016, this is my list of the shows to get your tickets for in the spring of 2017. There are a few talked about earlier that I am actually more excited about but these shows are the ones that, if all goes well, might be the difficult ticket to get if you wait too long:
1/ The Present
2/ Hello Dolly
3/ Sunset Boulevard
4/ Sunday in the Park with George
5/ Sweeney Todd
6/ Groundhog Day
7/ The Doll's House, Part 2
8/ Six Degrees of Separation
9/ The Glass Menagerie
10/ Present Laughter
11/ Charlie and the Chocolate Factory
12/ The Play That Goes Wrong
13/ War Paint
14/ Saint Joan
15/ Miss Saigon
For more go to frontmezzjunkies.com
Countdown to The Tony Awards: Who Will and Who Should Win Best Play, Best Musical and Best Revivals
The countdown is on and the winners of the 2022/2023 season will be announced in a live televised ceremony on Sunday, June 11. 
Here is who we think will win and who should.
Best Play 
The Nominees:
Ain't No Mo'
Between Riverside and Crazy
Cost of Living
Fat Ham
Leopoldstadt 
Leopoldstadt tells the story of of a Jewish family over 50 years. It is about claiming who you are, confusions, betrayal and generational bonds. This is Tom Stoppard's career masterpiece and the Tony's will want to honor this. I do however think Between Riverside and Crazy is a better written play, with much to say.
Will win: Leopoldstadt
Should win: Between Riverside and Crazy  
Best Musical  
The Nominees:
& Juliet
Kimberly Akimbo
New York, New York
Shucked
Some Like It Hot 
Kimberly Akimbo, is the theatre community's darling. Personally I think what this show says doesn't always give the best message. This show could use the box office bump, which is what the Tony's give. Some Like It Hot, has old-fashioned showmanship and makes the Broadway musical shine. This show made me fall in love with Broadway all over again.
Will win: Kimberly Akimbo
Should win: Some Like It Hot 
Best Revival of a Play 
The Nominees:
August Wilson's The Piano Lesson
A Doll's House
The Sign in Sidney Brustein's Window
Suzan-Lori Parks' Topdog/Underdog 
Suzan-Lori Parks is the darling of Broadway and has been honored by every major award for theatre this season.. Topdog/Underdog is a sure fire bet. The Sign in Sidney Brustein's Windowmoved me with its prolific message of marriage, personal relationships, the Bohemian culture, Judaism, race, suicide, homosexuality, political corruption, interracial love, and prostitution.
Will win: Suzan-Lori Parks' Topdog/Underdog 
Should win: The Sign in Sidney Brustein's Window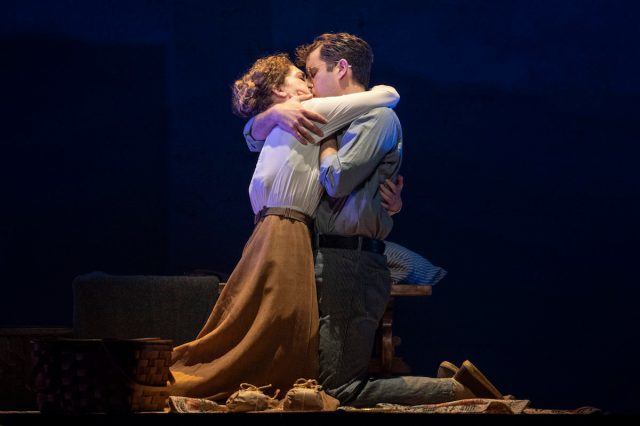 Best Revival of a Musical 
The Nominees:
Into the Woods
Lerner & Loewe's Camelot
Parade
Sweeney Todd: The Demon Barber of Fleet Street 
Parade speaks against hate and brings a musical that never worked to the forefront. 
Will win: Parade
Should win: Parade